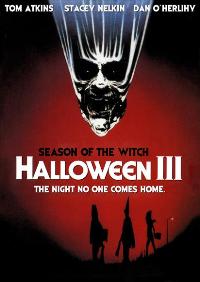 Halloween 3 has been a point of debate amongst horror fans for some time.  There are those who would write the movie off entirely as a failed experiment for the franchise. Others have claimed the movie was actually a strong film, and suffers for being labeled a Halloween movie.  The issue at the center of this debate is that with Halloween 3, the Michael Myers story was abandoned.  The movie instead focuses on a series of deaths that seem in some way connected to the Silver Shamrock mask manufacturing company.  I decided it was about time for me to watch it and form my own opinion.
The movie itself ended up being nothing like I had imagined.  What I knew going in was that there were mass produced masks that carried with them some nefarious purpose.  From this premise I had assumed story would be much like the Goosebumps book, 'The Haunted Mask,' which for the uninitiated involved the children wearing the masks turning into the beasts their masks portrayed while they had the masks on.   The majority of the film takes place in the Silver  Shamrock factory.
I liked this movie.  It was a pretty solid flick, and may have been given a fairer chance if it was just Season of the Witch, and not an awkward entry into the Halloween series.  I do have one major bone to pick with it, however.  In what world do you convince kids to stick to one of three masks for Halloween?  They aren't particularly good masks, and nobody wants to be stuck with the same costume that an entire third of the children are already wearing.  I also feel like the villain's motive makes the mask operation he is running seem like a very counter-intuitive way of achieving his goals.  That said, if you haven't already seen it, and you can handle the absence of Michael Myers, I would recommend this movie.  It's a fun film for the whole family, and the Silver Shamrock theme is extremely catchy and will likely get stuck in your head for some time.
Get this poster and more at the Movie Poster Shop